BREITLING - APACHE AVIATION
Apache Aviation was founded in 1982 by Jacques BOTHELIN, the current CEO, with the aim of setting up a aerobatics display team.

Since then, as a result of a series of partnerships with Martini, Ecco, Adecco and now Breitling, Apache Aviation has forged a unique image of professionalism and high standards through 3,050 displays in 32 countries.
The display team is the only professional civilian team flying jets in the world.
Since 2003, with an aim of diversifying its activity, Apache Aviation has developed the CATS (Combat Air Training Support) programme for the armed forces, with outsourced services in support of operational tactical training. By developing its fleet and adapting it to the needs of the missions to be carried out, Apache Aviation has given the CATS programme the means to provide the best services at the best price.

Contact: 03.80.35.63.10 / contact@apache-aviation.fr / http://www.apache-aviation.fr / http://www.jet-formation-flight.com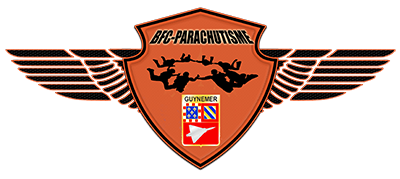 BFC PARACHUTISME
First flights + free-fall school + tandem + jumps from 6,000 metres
Website: www.bfcparachutisme.com